The Parasol Center

for Women's Cancer

The Parasol Center for Women's Cancer brings together Tel Aviv Sourasky Medical Center physicians and scientists to focus on how cancer impacts women. This includes both gender-specific cancers (such as breast and ovarian), and other cancers that may affect women differently than men (such as thyroid and lung cancers). The center represents a comprehensive approach that emphasizes research and cross disciplinary linkages to TASMC different clinical programs. As the country's largest medical center with fast growing research programs, clinical, translational and basic, the Parasol Center aims to develop variety of research protocols and clinical trials to develop new approaches to early detection, prevention and individualized treatments that will improve cancer survival for women.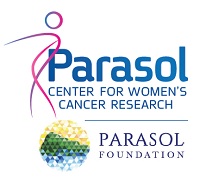 The Parasol Center for Women's Cancer is an integral part of the Oncology Division of TASMC. The Division is the largest in Israel, with over 4500 new cancer patients a year. The Breast Cancer Unit sees over 800 breast cancer patients and 300 new patients are being treated at Gynecological Malignancies Unit. The Division provides all the required infra-structure for the Parasol Center, including a top-notch Radiation Oncology Department with four new linear accelerators, Clinical Trial Unit which conducts phase I to III clinical trials and a Biostatistics Unit. 
The Research Lab, Headed by Dr. Tami Rubinek, includes a team of researchers, technicians and students and is well-equipped for the conduction of most advanced studies. A new Immunotherapy Center, which includes all the facilities to conduct cell therapy, as well as immunotherapy research laboratory, is currently being built and expected to be operational by early 2018.

Building the next generation of women leadership in the oncology field
The Parasol Foundation Women Cancer Research Center initiated an award program that supports outstanding women physician with oncological orientation to become proficient to hold leading clinical positions and carry out independent pioneering clinical research. These awards will be granted for four women physicians, each year in the next five years. This is a unique personalized five-year program designed for the awardees for future development, including support for a fellowship training abroad.
The awardees are top notch physicians, with proven clinical and research skills. The program ensures they will be able to promote their vision to constitute the leadership in the field of cancer treatment, management and research.
The winners of 2017 round are:

The Parasol Foundation Women Cancer Research Center – aims to enhance and promote the understanding and unraveling causes as well as develop new treatment modalities for specific malignancies affecting women. As part of its activities, starting in 2017, the Center grants seed funding for specific projects on a competitive basis.
This program supports innovative research into the causes, mechanisms, diagnosis,  prevention, and treatment of cancer in women. The program is devoted for basic, translational and clinical research. The Parasol Center encourages proposals for high-risk/high-reward research that could ultimately lead to critical discoveries or major advancements that will drive the field forward.
The awardees of the first round of winners submitted exciting projects, and were selected following peer-reviewed process according to the relevance of the research to cancer in women; scientific merit; innovation and feasibility.

The winners of 2017 round:
The winners of 2019 round: